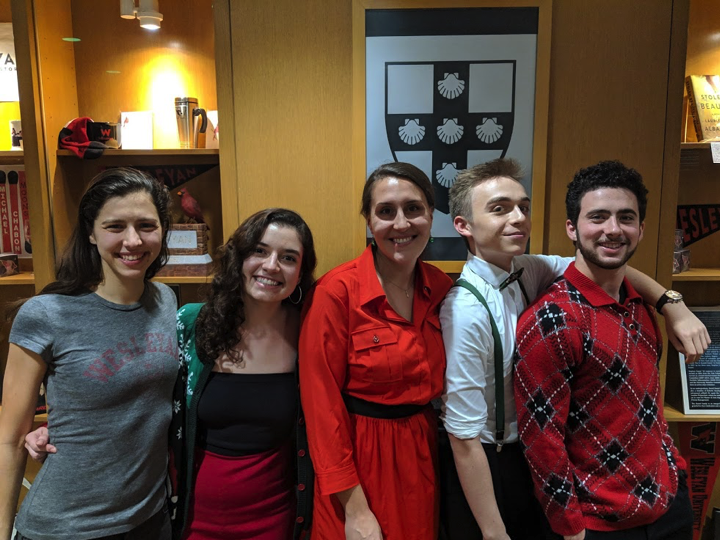 Chemistry Department Holiday Party, December 2018 (L to R, Sydney, Dani, Prof. O'Neil, Camille, and Dan)
Current PhD Students: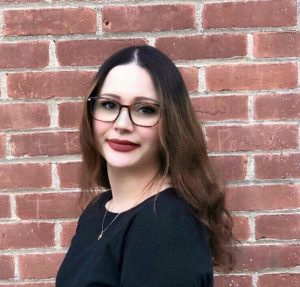 Mikayla Mclaughlin received her BS and MS degrees in chemistry with a biochemistry concentration from Southern Connecticut State University. At Southern, she worked with Dr. Todd Ryder to synthesize cephalosporin analogs as well as to isolate and characterize potential antibiotics from soil bacteria secondary metabolites. At Wesleyan, her interests in biochemistry and disease mechanisms lead her to join the O'Neil lab, where her specific interests are the relationships between post translational modifications and metal binding in mutated SOD1 protein and the development and progression of ALS.
Eric Zanderigo
______________________________________________________________________
Current Undergraduate Students: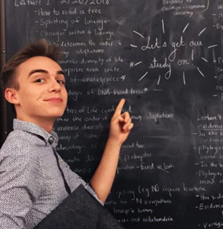 Camille Chossis ('21)  spent most of his childhood on a small farm in southern France before moving to Las Vegas, Nevada. Outside of lab, Camille is part of the Men's Water Polo team. He is currently majoring in Neuroscience and Biology and hopes to complete his master's degree in Neuroscience at Wesleyan before going to graduate school to complete a PhD in BioStatistics. His research in the O'Neil Lab currently focuses on the relationship between the C9ORF72 mutation, glial cells, and neurodegeneration.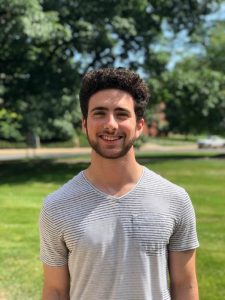 Daniel Kulick ('21) from Austin, Texas,  was a percussion section leader and a concert marimbist while at Vandegrift High School. At Wesleyan, he continues to pursue his interest in music through Taiko drumming, while also being involved in ultimate Frisbee and mental health awareness organizations. He is a neuroscience and chemistry double major. After he graduates, he plans to go to medical school and become a sports-fellowship trained orthopedic surgeon.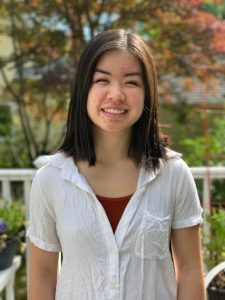 Emily Moon ('21) from San Francisco, California where she graduated from Lowell High School. At Wesleyan, she is a neuroscience and biology double major. She is heavily involved with Wesleyan's Asian American Student Collective and plays ultimate Frisbee on Vicious Circles. After graduation, Emily plans to go to medical school and hopes to pursue a career in clinical research.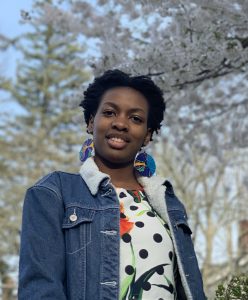 Alice Ghislaine Musabe ('22) From Rwanda and came to the USA through the Bridge2Rwanda program. At Wesleyan, Alice is currently pursuing a degree in Neuroscience with the dream to become a psychiatrist. She is also interested in Biochemistry, especially working with stem cells. In the lab she is working to produce SOD1  from E. coli and characterize its properties. In her free-time, Alice enjoys blogging where she shares her poetry that mainly focuses on mental health, female experiences, and love.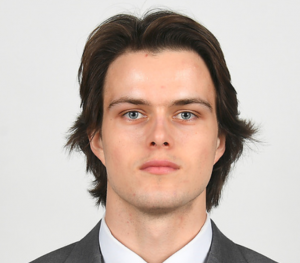 Stevie O'Connor ('22) is from Marshfield, MA, and graduated from Milton Academy in 2017. At Milton, he was a varsity athlete in hockey, and has continued his passion for hockey as a member of the Men's Ice Hockey team at Wesleyan. Academically, he is majoring in Neuroscience and Behavior and minoring in Chemistry. He is also pre-medical, and, after graduation, plans on attending medical school. His research in the O'Neil Lab currently focuses on the production of SOD1 protein, in particular the H46R mutated form.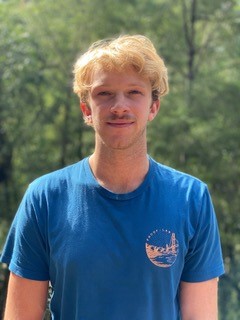 Simon Van Deursen ('22) from Marin, California, graduated from the Branson School in 2018. At Wesleyan, he is a member of the Wesleyan Ski and Snowboard team and is majoring in Molecular Biology & Biochemistry and the College of Integrative Sciences. In his free time, he enjoys playing piano and hiking. In the O'Neil Lab his research focuses on neuroinflammation, glial cells and neurodegeneration.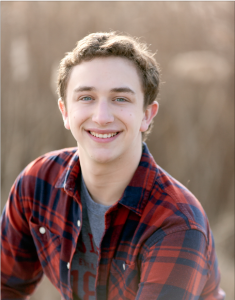 Drew Weiss ('21) is from Philadelphia, PA, where he graduated from The Haverford School. At Wesleyan, he is a Neuroscience and Theatre double major with a minor in Chemistry. On campus, he is in an a capella group, involved in the Jewish community, and works at Star & Crescent, Wesleyan's student-run restaurant. His research in the O'Neil lab focuses on producing mutated forms of SOD1 and studying its physical properties.
______________________________________________________________________
Lab Alumni: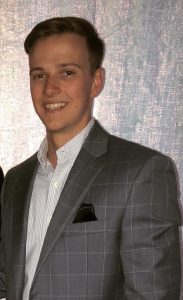 Matthew Huston ('20) from Pittsburgh, PA graduated from Wesleyan with a B.A. in Neuroscience and a Chemistry and History minor. At Wesleyan, Matt played on the NESCAC Championship-winning Hockey Team.  After  graduation, he would like to use his experience in the lab to pursue a master's degree here at Wesleyan and eventually move on to graduate school to obtain a PhD.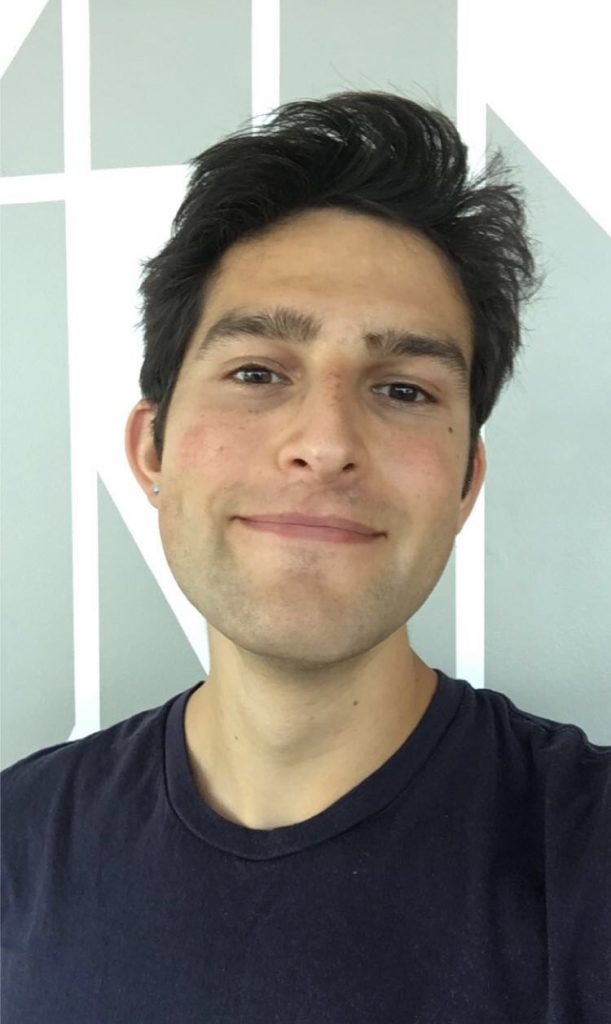 Jacob Greene ('20) from Seattle, WA graduated from Wesleyan with a B.A. from the Neuroscience and Behavior and Science in Society Program. At Wesleyan, Jacob organized the Buddhist community and Shaolin martial arts, while also playing for the Wesleyan men's Ultimate Frisbee team. His research in the O'Neil lab investigated gene editing in stem cells, TDP43 mutation in neurodegeneration, and environmental toxicants in sporadic ALS. Jacob is currently a research associate at the Altius Institute for Biomedical Sciences in Seattle, WA and plans to pursue a PhD in molecular biology.