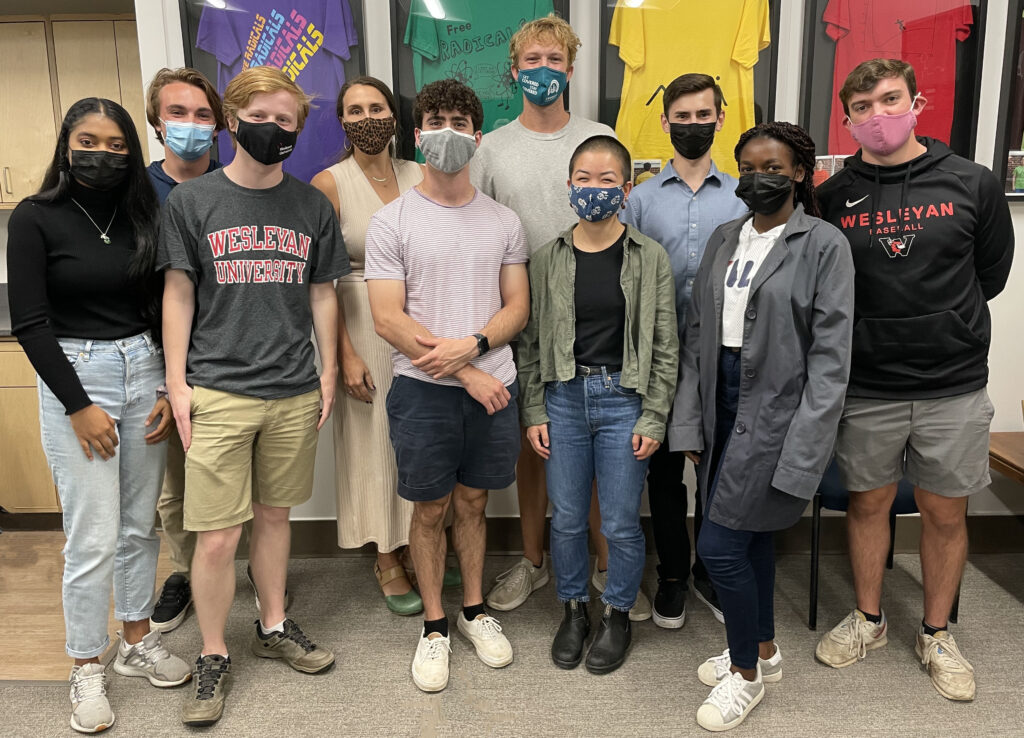 Fall 2021 Group Photo: (left to right) Mohona Yesmin '23, Stephen Vaughn 23′, Aidan Jones '23, Prof. O'Neil, Dan Kulick MA '22, Simon Von Deursen '22, Emily Moon MA '22, Eric Zanderigo grad student, Alice Musabe '22, Adam Geibel 22′ (Missing: Mikayla McLaughlin, grad student)
Current PhD Students:
Eric Zanderigo
Manaal Fatima
Current Undergraduate Students: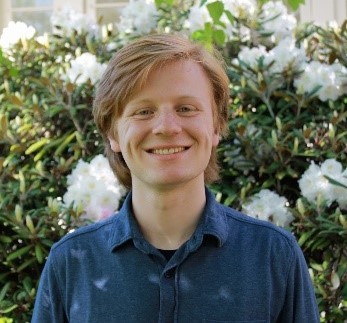 Aidan Jones, Class of '23, grew up in North Plainfield, NJ. He graduated from Oratory Preparatory High School in 2019 and is now double majoring in Molecular Biology & Biochemistry and the College of Integrated Sciences program with a minor in Chemistry. Outside of the classroom, he loves to lead the Wesleyan Astronomy club, play soccer with friends, travel, ski, practice piano, bake with his brother, and go on long walks. In the future, he wants to pursue a Ph.D. and then work in either academia or the pharmaceutical industry.
Stephen Vaughn, Class of '23, grew up in Encinitas, California about 30 minutes North of San Diego. He graduated from Pacific Ridge School in 2020 and now majors in Neuroscience and Behavior at Wesleyan University. He enjoys MMA, ultimate frisbee, music and video games. He plans on getting a PhD after Wesleyan and then working in the biotech industry.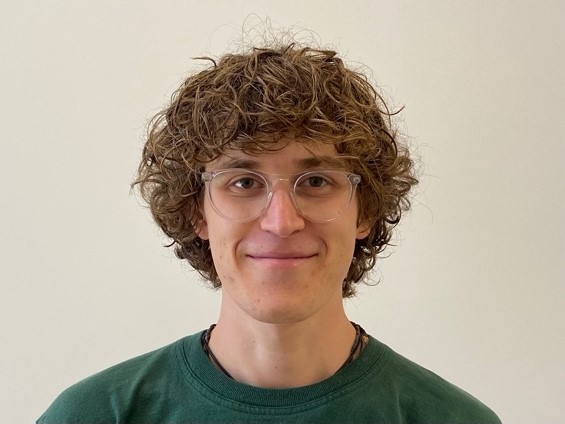 Aaron Berson, Class of '24, calls Leesburg, Virginia (~45 minutes from D.C.) home, having graduated as a homeschool student. At Wesleyan, he is majoring in Neuroscience & Behavior and the Science in Society Program, as well as minoring in Integrated Design, Engineering, Arts, & Society (I.D.E.A.S.). His interests include adventuring the outdoors, reading nonfiction and science fiction, and spending hours cooking new and weird recipes in his kitchen. He plans on pursuing a medical degree after Wesleyan and becoming a pediatric neurologist.
______________________________________________________________________
Lab Alumni: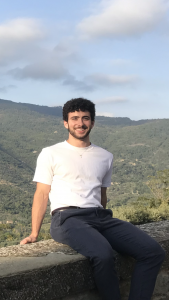 Daniel Kulick BA'21 MA'22, from Austin, TX, graduated Wesleyan with a Neuroscience and Behavior major and a Chemistry minor. As an undergraduate, he worked in the O'Neil lab identifying environmental pollutants that could contribute to ALS. As an MA student, his research focuses on the toxicity mechanisms of pesticides that produce phenotypes akin to ALS. Outside of lab, he enjoys playing ultimate frisbee and taiko drumming. After completing his MA, he plans to go to medical school and hopes to become a surgeon.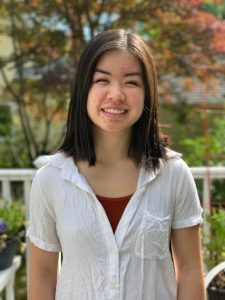 Emily Moon BA'21 MA'22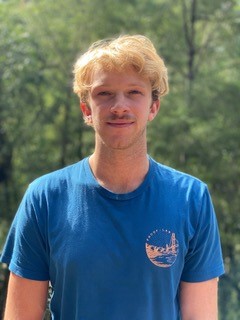 Simon Van Deursen BA '22, from Marin, California, graduated from the Branson School in 2018. At Wesleyan, he is a member of the Wesleyan Ski and Snowboard team and is majoring in Molecular Biology & Biochemistry and the College of Integrative Sciences. In his free time, he enjoys playing piano and hiking. In the O'Neil Lab his research focuses on neuroinflammation, glial cells and neurodegeneration. Simon is now working towards his PhD at Columbia University in NYC.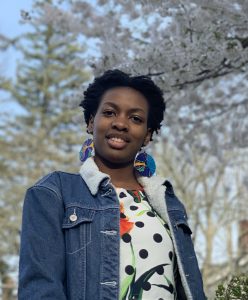 Alice Ghislaine Musabe BA '22, From Rwanda and came to the USA through the Bridge2Rwanda program. At Wesleyan, Alice is currently pursuing a degree in Neuroscience with the dream to become a psychiatrist. She is also interested in Biochemistry, especially working with stem cells. In the lab she is working to produce SOD1  from E. coli and characterize its properties. In her free-time, Alice enjoys blogging where she shares her poetry that mainly focuses on mental health, female experiences, and love.
Camille Chossis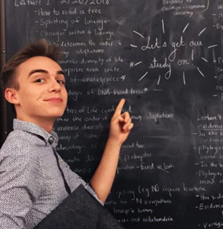 BA '21, a McNair Scholar, spent most of his childhood on a small farm in southern France before moving to Las Vegas, Nevada. His research in the O'Neil Lab focused on the relationship between the C9ORF72 mutation, glial cells, and neurodegeneration. He graduated with a double major in Neuroscience and Biology and is now pursuing a PhD in Neurobiology at the California Institute of Technology in Pasadena, CA. Outside of lab, Camille was part of the Men's Water Polo and the Men's Crew Team. Camille is now working towards his PhD at CalTech.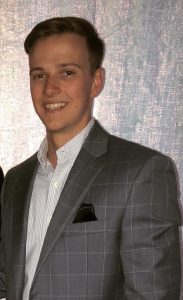 Matthew Huston BA '20, from Pittsburgh, PA graduated from Wesleyan with a B.A. in Neuroscience and a Chemistry and History minor. At Wesleyan, Matt played on the NESCAC Championship-winning Hockey Team.  After  graduation, Matt is working as a research technician in Prof. Kathleen Collins' lab at the University of Michigan, Ann Arbor.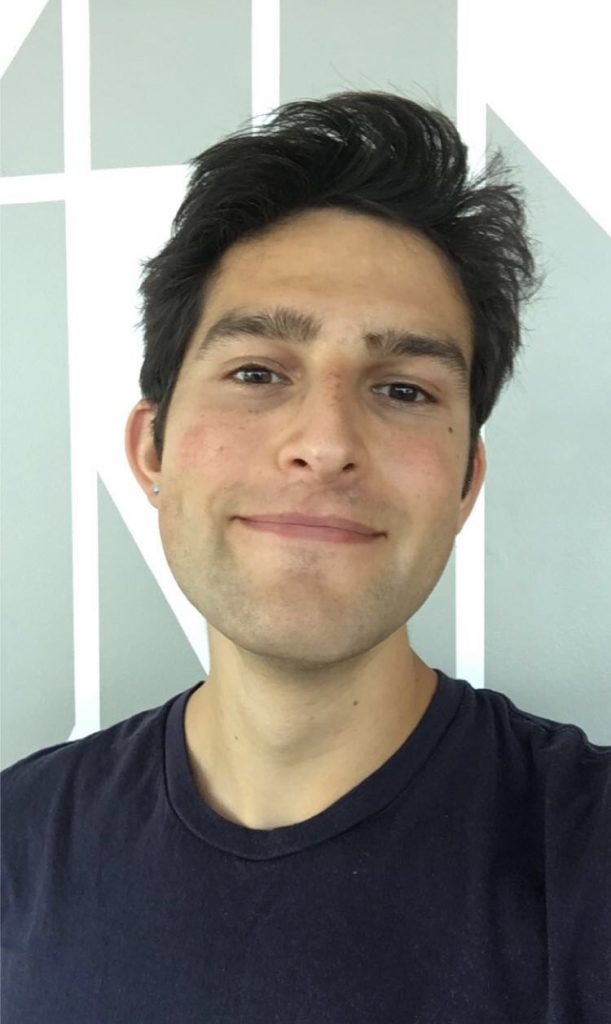 Jacob Greene BA '20, MA '21, from Seattle, WA graduated from Wesleyan with a B.A. from the Neuroscience and Behavior and Science in Society Program. At Wesleyan, Jacob organized the Buddhist community and Shaolin martial arts, while also playing for the Wesleyan men's Ultimate Frisbee team. His research in the O'Neil lab investigated gene editing in stem cells, TDP43 mutation in neurodegeneration, and environmental toxicants in sporadic ALS. Jacob is currently pursuing a PhD at the University of Washington in Seattle. Jacob Simon is now working towards his PhD at Washington University in Seattle.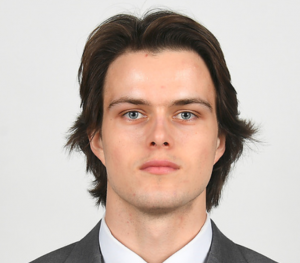 Stevie O'Connor BA '22, is from Marshfield, MA, and graduated from Milton Academy in 2017. At Milton, he was a varsity athlete in hockey, and has continued his passion for hockey as a member of the Men's Ice Hockey team at Wesleyan. Academically, he is majoring in Neuroscience and Behavior and minoring in Chemistry. He is also pre-medical, and, after graduation, plans on attending medical school. His research in the O'Neil Lab currently focuses on the production of SOD1 protein, in particular the H46R mutated form.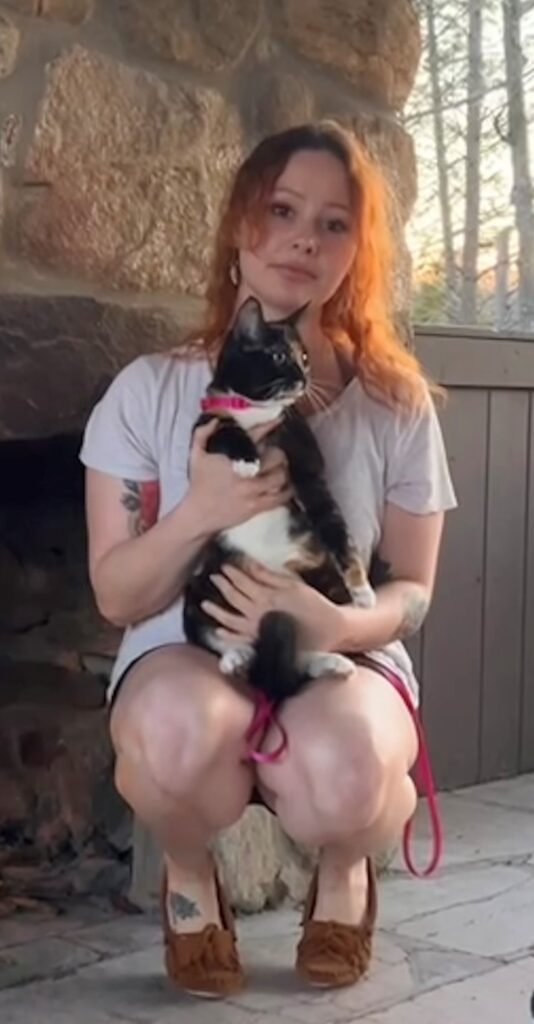 Mikayla Mclaughlin received her BS and MS degrees in chemistry with a biochemistry concentration from Southern Connecticut State University. At Southern, she worked with Dr. Todd Ryder to synthesize cephalosporin analogs as well as to isolate and characterize potential antibiotics from soil bacteria secondary metabolites. At Wesleyan, her interests in biochemistry and disease mechanisms lead her to join the O'Neil lab, where her specific interests are the relationships between post translational modifications and metal binding in mutated SOD1 protein and the development and progression of ALS.